Recently, it has been impossible to fully exist in the information environment without reference to a phone number. Almost all Internet services require you to specify a personal contact when registering. And this is not always convenient and rational. Sometimes a temporary contact is required to create an account on any site. And sometimes it is necessary to buy a virtual number for Kazakhstan.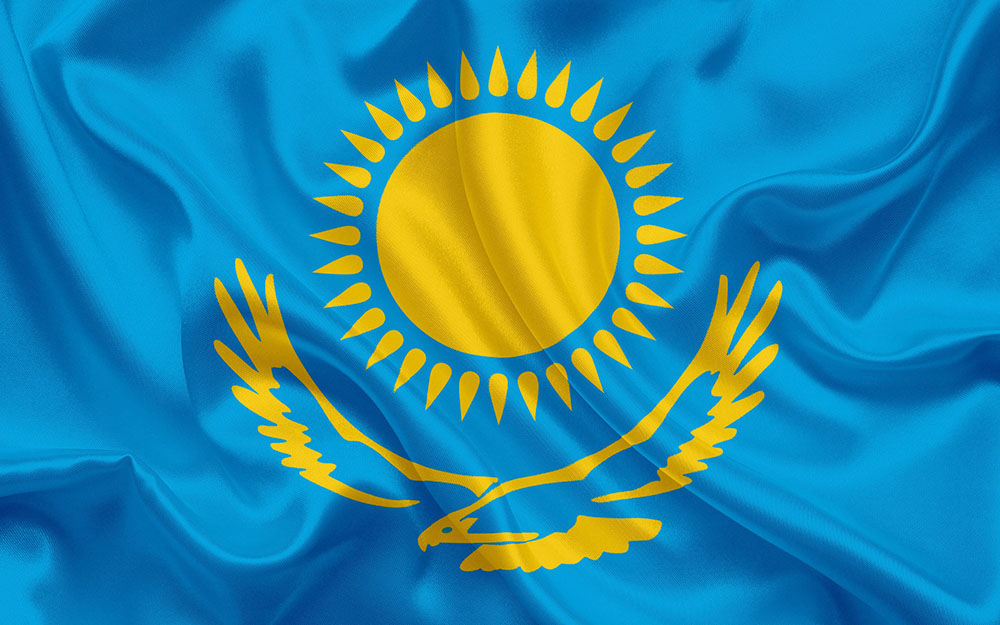 Don't be surprised. In 2022, due to a number of circumstances, contact with a regional link in the camp of the southern neighbor of the Russian Federation may have significant advantages over the Russian one. In particular, the Kazakh number for receiving SMS allows:
circumvent some sanctions restricting registration on the Internet for numbers of other countries;
marketplaces with a Kazakh residence permit respond to accounts linked to local numbers and can offer such customers the best conditions, up to additional discounts and free goods;
virtual numbers of Kazakhstan for receiving SMS can also be useful for personal communication (this is happening more and more often).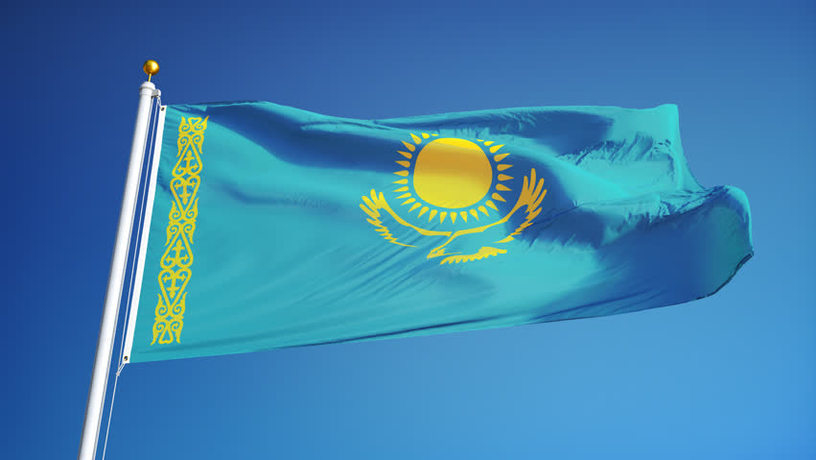 So how can I get Kazakh numbers for sms? Perhaps the best way is to use the services of the service for the sale of virtual numbers «Grizzly Sms». We have been the market leader in SMS activation for several years and provide our customers with only the best:
competitive prices for one-time reception of messages with verification passwords (our services are in the lower price range);
Kazakh SMS numbers are always available, as well as the numbers of almost all other countries from which you can register on any popular site in the world;
the website interface is intuitive, the speed is high, so you won't spend a lot of time buying a number. In some situations, registration using SMS activation will be faster than standard;
if you need to purchase in bulk, we provide mass automatic purchase of temporary numbers using the API;
various payment methods are provided for your convenience;
technical support works quickly and really solves problems.
Today you have an excellent opportunity to register in any of the services popular in Kazakhstan, for example, Telegram, WhatsApp, VK, Tinder, Paypal, Amazon, Blizzard. Use our SMS generator and create any number of accounts you need in a couple of clicks completely anonymously.
Buy Kazakhstan number for SMS: step-by-step instructions
Especially for you, we provide a detailed list of actions that allow you to get a number for SMS in Kazakhstan. See for yourself how simple, fast and affordable everything is:
To get started, log in to our service using the link (or find the "log in" button in the upper right corner of this page). To log in, you just need to specify an email address or use an account in one of the social networks (Facebook, Instagram, VK);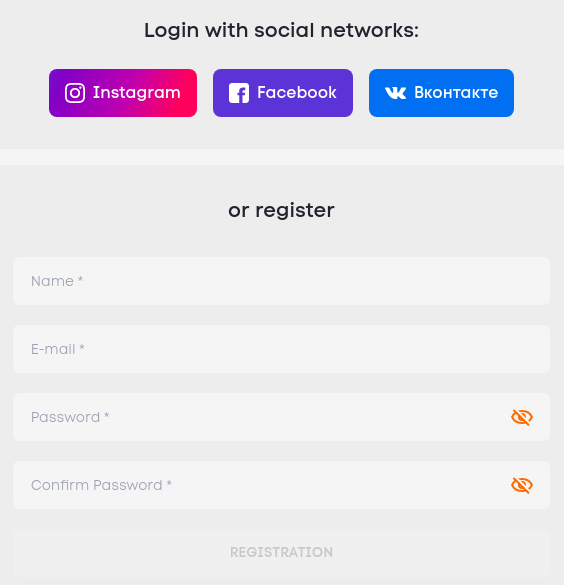 2. Before you buy a virtual Kazakh number, find Kazakhstan in the list of available countries and select the necessary service (where you want to register and from which you will receive a verification code). Believe me, we have a choice!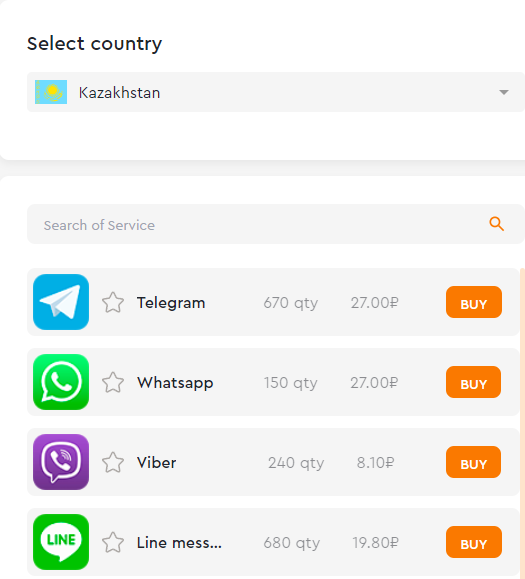 3. Next to the name of the service, you will see how much it costs to receive a one-time SMS from the selected site. Top up your account with the required amount. Bank cards, electronic and crypto wallets are accepted for payment;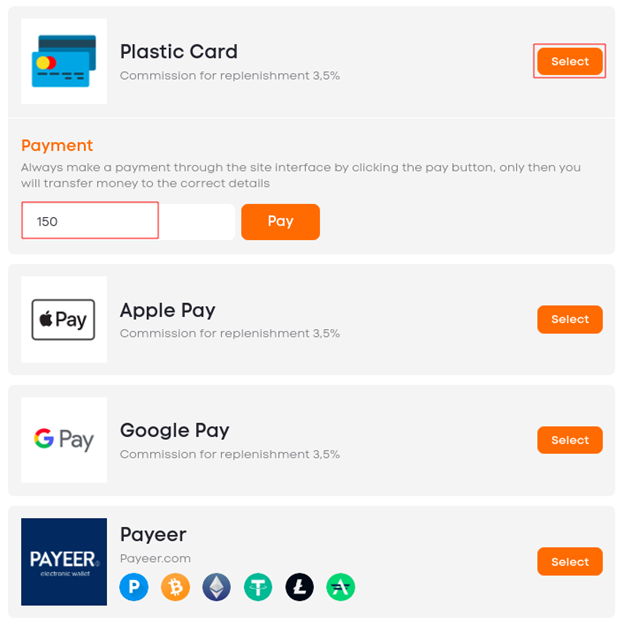 4. Return to the service selection page and complete the purchase by clicking on the "Buy" button next to the name of the site where you stopped. The number for receiving SMS from Kazakhstan has been purchased;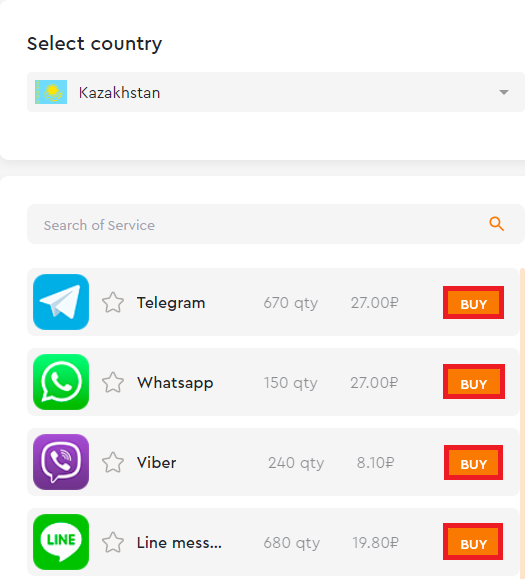 5. Go to the "Active Numbers" tab, there you will find the generated phone number. Copy it and you can proceed to registration in the selected service.
That's all. We hope that now you are convinced that it is very easy to buy a virtual Kazakh number for SMS. And it's also easy to use it for any of your purposes!