A link to the affiliate program: https://grizzlysms.com/refer
Do not miss the opportunity to get a stable additional income without investments and labor costs! From now on, partners of the SMS activation service "Grizzly SMS" have access to a referral program for software developers with the function of registering accounts for virtual numbers, which allows them to receive a percentage of the turnover of their users.
Recommend our service to your users, get 5% of their turnover and immediately withdraw funds without any problems instantly and in any convenient way!
Affiliate program for developers: the principle of cooperation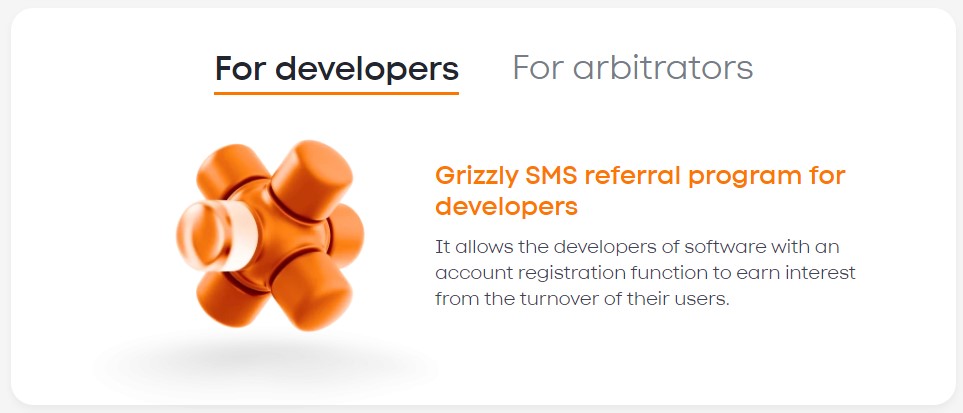 If you are an active developer of software for automatically requesting virtual numbers with specified parameters, as well as a goal-oriented person who wants to receive additional passive income, then you have all the possibilities of our software affiliate program.
Refer your users to us using named queries and get a good percentage of the amount of all purchases by your users (we get new customers, customers get the most reliable numbers in Runet, and you get a solid income. Despite the fact that everything occurs automatically).
Referral programs for developers: how much can you earn?
It all depends on the number of attracted customers. Recommend our service to as wide an audience as possible and you are guaranteed to receive 5% of the total turnover of referred users (who purchased our virtual numbers by automatic requests from your software). Only you decide how to deal with the proceeds: withdraw in a convenient way (to bank cards, electronic or crypto wallets) or use the best SMS activator on the Internet for your own needs.
The developer partner program is a promising project for those who do not look back and make the most of life.
How to become a developer partner?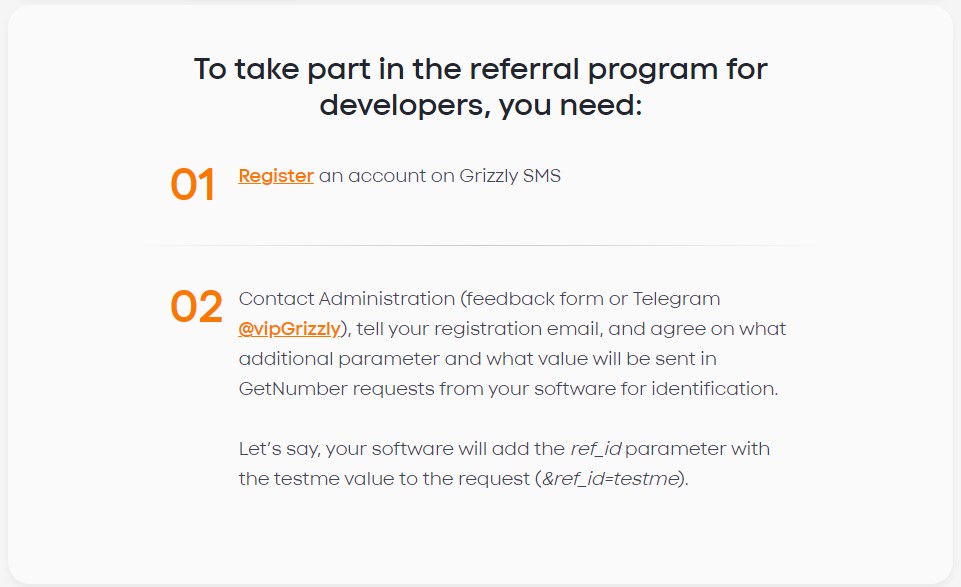 It's not simple, but very simple. If you already have specialized software for automated receipt of virtual numbers, do the following:
Contact the administration (via the feedback form or Telegram @vipGrizzly), provide your registration email and agree on an additional parameter and value that will be sent in GetNumber requests from your software to identify your own users. For example, your software will add a ref_id parameter to the request with the value gtx06 (&ref_id= gtx06);
Set up your software to execute automatic requests for the purchase of virtual numbers, taking into account the parameter specified in paragraph 2;
To successfully implement the referral program for developers, actively promote your software among interested users and expand your client audience;
From time to time check your balance in your personal account on "Grizzly SMS" and order withdrawal of funds (% of the turnover of referred clients).
The best affiliate programs for software from the "Grizzly Sms" service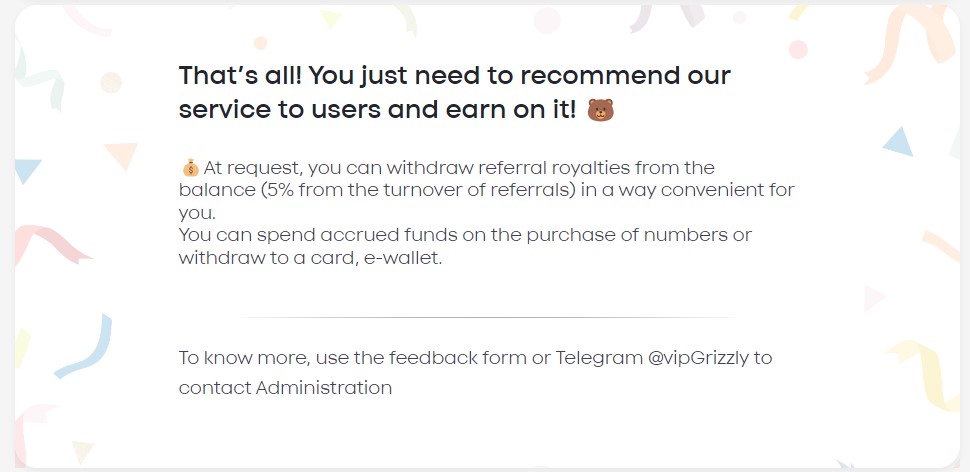 Recommend us to your users with your software and the result will not keep you waiting. Provide as many as possible user transitions on automatic requests and you will get reliable SMS activation services that will ensure a high turnover from each client. Thus, the "Grizzly SMS" software affiliate program will become your reliable support in unstable times.
Be sure of the reliability of our cooperation. By developing your software in close relationship with us, you help your customers receive the best services in virtual SMS activation. Everything you need to know about our service:
all numbers are guaranteed to receive SMS;
there are always many numbers from all countries of the world and for any platforms;
we have the most favorable conditions for wholesale cooperation;
a wide range of payment instruments with which you can pay for virtual numbers;
the best referral programs for software, affiliates and SIM card owners.
Recommend only the best services. They are the guarantee of your well-being!