Since social networks and instant messengers have turned from platforms for purely communication into entire ecosystems where you can lead not only personal life, but also business, enterprising users have begun to create second and third accounts. And especially active - even tenths and hundredths. But since the security policies of many Internet services began to provide for linking a personal phone number to an account, such a thing as fake phone numbers for receiving SMS has appeared in the information space.
Despite the general negative connotation of the word "fake", in this case we are talking about a very useful thing for those who are not used to limiting their capabilities to the number of SIM cards they have. Since it is a fake phone number for SMS that opens up the possibility for the user to register on any services without restrictions.
Buy fake numbers for receiving SMS or real ones?

A bit of terminology. Fake phone number for receiving SMS (temporary number, one-time number, virtual number, SMS activation number) is an Internet service for one-time receiving messages from other services, registration in which involves linking to a mobile phone.
A user who for some reason does not want to reveal his real contact can buy a fake phone number for registration and enter it when creating an account and receives an SMS with a verification code through a temporary number provider. Thus, he successfully passes the registration procedure in social networks, instant messengers, online stores, online cinemas, etc.
Here are the main advantages of this registration method over the traditional one:
a fake number for registration is much cheaper than buying a new starter pack (and after registration, the number may never be needed again);
the use of virtual SMS activation saves you time to buy a new SIM card or to search for an account seller (if you decide to take the profile "from hand");
Accounts created with a fake number for SMS are fully functional, just like regular ones. In addition, they are more reliable than bought from anyone;
Fake numbers for registration - this is about anonymity and security, since usually they do not require disclosure of personal information to purchase them (usually an email address is enough).
Buy fake phone number from "Grizzly Sms"

But not all fake SMS numbers are the same. The main parameter of a virtual contact (of course, after the price) is its reliability. In other words, you must be sure that after the purchase you will definitely receive an SMS with a verification code.
That is why we recommend that you use the Grizzly Sms service. We focus on the availability and reliability of our services. If you buy a fake number online from us, then you are guaranteed to receive an incoming message from the selected platform for account verification.
By the way, about the sites. What we are especially appreciated by regular customers is the availability of numbers for all relevant Internet services from around the world. Moreover, you can choose the country of the telephone operator (which is very convenient for bypassing various kinds of regional restrictions) and receive registration SMS from:
•VK;
• Telegram;
• Google;
• Facebook;
• Twitter;
• Instagram;
• Viber.
And this, of course, is not all. Fake phone number for SMS can be obtained for any of 200+ sites!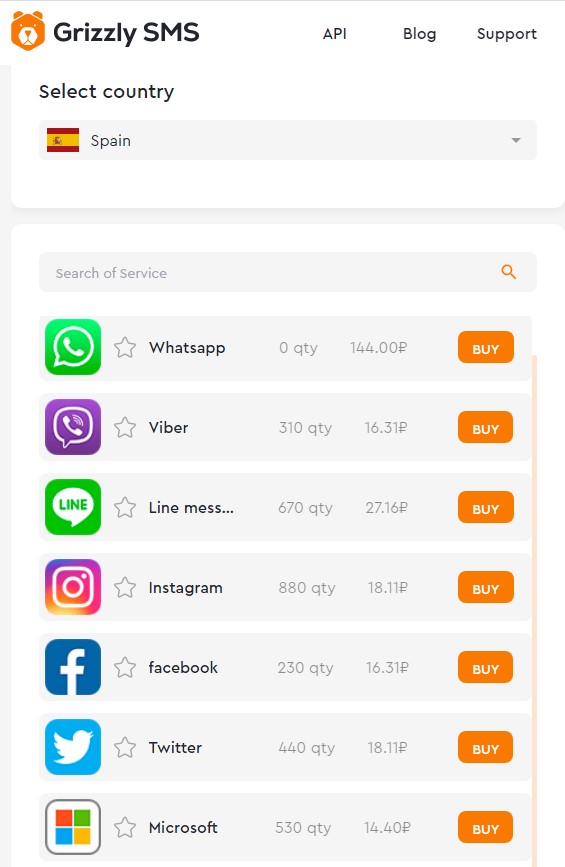 We care about clients. Our developers have created a convenient and intuitive interface that anyone can figure out. For the convenience of a wide range of users, we have provided the possibility of paying for services in various ways: by bank cards, wallets of payment systems, cryptocurrency. If there is any question regarding the use of the service, effective technical support is at your service 24/7. And, of course, we can automate the process of mass purchase of numbers using well-thought-out API technology.
Still not sure how to create a fake number? Go to the main site and get reliable temporary contacts. From two rubles!